Attaching labels to music, in my mind, at least, has always been a wobbly and unreliable slide descending down an exceedingly slippery slope. By October 1971, it was misleading and even deceitful to talk about rock as a single genre, and it was insane-asylum, martians-are-amongst-us delusional to dismiss the material being stocked in the rock section of the newly-blossoming, corporate-owned record stores somehow as inferior or somehow secondary in artfulness or sophistication to music of prior generations. But more importantly, and as equally undeniable, the boundaries between "classical" music and rock music and jazz and rock not only blurred but became invisible in case after case.
Van Der Graaf Generator: Pawn Hearts
Recorded in July through September 1971 and released in October 1971, Van Der Graaf Generator's fourth album, Pawn Hearts was so good that it made the band rockstars almost overnight — that is, in Italy where the album climbed all the way to the number one album spot in early 1972. The band ended up touring in Italy three times that year, the first in Feb. 1972 with a level of enthusiasm reminiscent of Beatlemania including oversold concerts and the Italian military engaged to control riotous crowds.

Should we be puzzled that the country that produced (and didn't need to wait until their deaths to embrace) composers like Palestrina, Monteverdi, Vivaldi, Puccini, Verdi, Rossini and Morricone should recognize the value in Pawn Hearts, one of the most impressive art-rock albums of either 1971 or 1970? What is puzzling is the lack of attention the album received in the U.S. and the U.K. Even today (at the time of writing this, for I will go in and make my own edit at some point) the Wikipedia entry on UK Prog Rock neglects to mention VDGG: https://en.wikipedia.org/wiki/British_rock_music#Progressive_rock
This is clearly music to take note of. The original release holds together flawlessly, composed of three epic tracks, utilizing the elements of traditional tonality and repeated motific phrases perfectly, merging efficient industrial forces with apparently inexhaustible emotional passion.
All three tracks that made up the initial UK released (an additional track, quite fine in its own right, a cover of George Martin's "Theme One" for the BBC as added for the U.S. release) combine to provide a stunningly unified whole, even though each track is formed from smaller musical components themselves. Each track is arguable even better than the one before with the third and final track, "A Plague of Lighthouse Keepers" spanning the entire second side — aligning with the increasing prevalence of albums to have a first or second side (or both sides of an LP dedicated to a single composition.
I could use up all my time-allotment for this month's Fifty Year Friday post just gushing over this album, but it would be a unwise consumption of both your time and my time — time much better spent listening to this album and other music released fifty years ago.
Hawkind: In Search of Space
While the disciplined, elite musicianship required for more traditional classical music and jazz had its influence on the direction of many progressive rock bands, it seems just as many were influenced by a combination of the psychedelic rock of the sixties, the free jazz of the sixties, and the classical avant garde, particularly musique concrète and electronic-based compositions and experiences. While some bands may have had less than qualified musicianship and creativity to successfully pull off such an amalgamation of varied influences, other groups not only provided musically fulfilling concerts and albums, but in aggregate, created an array of diverse styles — styles that were given their own labels, with the two most prevalent styles named space rock and Kraut rock.
Hawkwind's first album is one one of the earliest examples of space rock. Their second album, released on October 8, 1971, is the most representative example of space rock I know of. Simple, repetitive and compelling, it is the first album I would select to answer the question what is space rock. The albums could be the work of druggies, or geniuses — that is open to discussion — but either way the music creates a intangible boundaryless listening experience within the somewhat identifiable boundaries of space rock: a listening experience that is engaging and effortless, relaxing and cosmic.

Pink Floyd: Meddle
Pink Floyd wanders down a more cosmic-sounding space-rock path, with their sixth studio album, Meddle, released on October 31, 1971, surpassing the quality, consistency and cohesiveness of their previous efforts. This first track, "One of these Days" is by far my favorite, and likely had an influence on a number of bands, particularly Tangerine Dream. This is followed by the floating, leisurely drifting, spacey sixties-flower-powered-flavored tune, "A Pillow of Winds" and a similarly comfortably laid-back track, "Fearless."
"Echoes", the last track on the album, spanning all of side two, starts off with the promise of a masterwork, but hits a few dull patches in the middle before ending strong — a good effort that could have been epic.
Faust: Faust
Faust: In 1969, Polydor records reached out across the Atlantic to a German left wing journalist, Uwe Nettelbeck, with the odd but seemingly commercially-justifiable request to assemble a German rock group that could tap into the potential of the ever-rising demand for rock music by German youth. Perhaps this Polydor rep didn't realize that this was the Uwe Nettelbeck that breached film jury etiquette by openly praising a work his wife had produced (a film about a verbally gifted cock — not the avian variety), or that this was the Nettlebeck that supported some of Germany's more notable extremists — for rather than giving Polydor Germany's answer to the Rolling Stones, Nettlebeck scoured the German underground scene identifying two talented by totally uncommercial groups, merging them into a single group, Faust, which Polydor soon funded, much to their eventual discontent — for Faust clearly had more in common with the musical ethos and sensibilities of Karlheinz Stockhausen, John Cage and Frank Zappa than that of the most profitable rock groups in Britain.
Though probably not appreciated by Polydor executives, their investment in Faust paid dividends in terms of musical quality and the influences on existing and future German bands and future bands the world over. This debut album, released on September 21, 1971, is both wildly creative and inescapably compelling. How did they command or coax their materials and their apparently unconcerned improvisation to come together into such a listenable experience? That's a mystery to me , yet here we have this important artifact of the early days of the so-called Krautrock art-rock movement, immensely influential and challengingly entertaining and enjoyable.
Cluster: Cluster
Cluster: Whereas the Faust album had traditional melodies, harmonies and lyrics, this debut album by Cluster is purely a journey through ambient and mood-inducing sonic explorations. Like the Faust album, it works and effectively entertains and captures one's attention both intellectually, and in a laid-back fashion, emotionally. And just like the Faust album the first side is two tracks, and the second side contains one single, attention-engaging composition. Influential? You bet, with near-term impacts on artists like Brian Eno, and longer term impact of artists that came decades later.
And so, we have four very different albums released in October 1971, In Search of Space, Meddle, Faust, and Cluster, all of which can be characterized as space rock, even though they could not be more different in use of musical materials and general musical approach.
Focus: Focus II (Moving Waves)
Focus releases their second album, one which soars to the number 4th spot in their home country, the Netherlands, reaches number two in the nearby UK, and surprisingly peaks at number eight in the U.S.. this success largely based on the radio airplay of the yodeling, exuberantly rocking, "Hocus Pocus."

The album starts off at full tilt with "Hocus Pocus", followed by more progressive, but still easily accessible compositions. All in all a fine, though not indispensable, prog-rock album.
Freddie Hubbard: Straight Life
This album blends both bop and myriad post-bop elements with soul, funk and fusion to deliver a strong, and puzzling oft-overlooked classic album. (Rolling Stone Jazz Record guide gives this one out of five stars, which inaccurate assessment, for me, cast doubts on the entire contents and relevancy of the Rolling Stone Jazz Record guide.) Here we have another fine album with a full-side track, the title track, that opens with a free-jazz intro (shorter than the impressive intro that opens the Red Clay album) and then transforms into a lively, celebratory and appropriately contemporary grooving musical adventure with astonishing trumpet work from Freddie Hubbard and more progressive explorations from Joe Henderson.
The first track of the second track, "Mr. Clean", is nothing short of amazing music making, Hubbard providing a vigorous, unrelenting solo, matched in intensity and creativity by Henderson. Jack Dejohnette is excellent in both the first and second tracks, but of particular note is how imaginatively and effectively he supports George Benson's guitar solo.

The final track, is the beautiful Jimmy Van Heusen "Here's that Rainy Day," performed intimately and gracefully as a duet by Hubbard and Benson, is one of the most expressive and evocative musical recordings of 1971.
Moondog: Moondog 2
Louis Thomas Hardin (better known as Moondog) and producer James Guercio release the second Moondog album for Columbia records, departing considerably from the 1969 Moondog masterpiece, with a set of twenty-six round-based compositions, almost all with vocals by Hardin/Moondog himself and his daughter, June Hardin. Setting aside the wit and cleverness of these compositions, this a fine study in handling of relatively simple rounds — not simple meterically or rhythmically, though, and this factor certainly brings life and variety into these works. This is yet another album that eludes any glib labeling of contents as it is clearly not rock, not jazz, not country, not folk, and not classical, though one can make associations to the minimalist classical movement — on the other hand, some of that similarity is due to the harmonic stasis chosen as the foundation for easy overlapping of melodic material.
Carla Bley: Escalator Over the Hill
A three LP opera with incredible music by Carla Bley and the selected musicians with somewhat elusive lyrics by Paul Haines. Now this could pass as progressive rock or classical or third stream jazz, depending on one's viewpoint, so maybe best to simply call it great music. If the lyrics don't come together effectively as a whole, that is more than made up by the music — all the way down to the endless humming stamped into that last, final inner groove of the second side of the third LP.

If one doesn't immediately take to the overall musical majesty of this work, there are plenty of individual contributions that will keep one's attention, from Don Cherry's amazing solo to the John McLaughlin's guitar work, to the range of music styles and textures to the many individual contributions of the participating musicians, including vocals by a youthful and talented Linda Ronstadt and renowned Cream bassist Jack Bruce.
Jimi Hendrix: Rainbow Bridge
I bought this album, despite it clearly labeled as a soundtrack album, due to my appreciation of the excellence of Hendrix's previous albums. In truth it is not a soundtrack but partly made of tracks recorded for an album that would have followed "Cry to Love."
The first four tracks of the first side are all classic, easily accessible musical gems. On side two, there is an incredible live version of "Hear My Train A' Coming" with timeless Hendrix guitar. Album ends superbly with a soulfully uplifting but often mellow "Hey Baby (New Rising Sun.)"
Van Morrison: Tupelo Honey
Released on October 15, 1971, Tupelo Honey, is a wonderful blend of blues, soul, rock, folk, and country-rock elements. I don't consider myself a Van Morrison fan (I cringed, at the age of twelve, each time they played "Brown Eyed Girl" on AM radio, anxious for it to end to give way to something more to my preference), but I embrace Tupelo Honey 100% and am amazed at the consistency, authenticity, and quality of the album. This is one of the best examples of a commercially successful album that avoids any overt commercialism.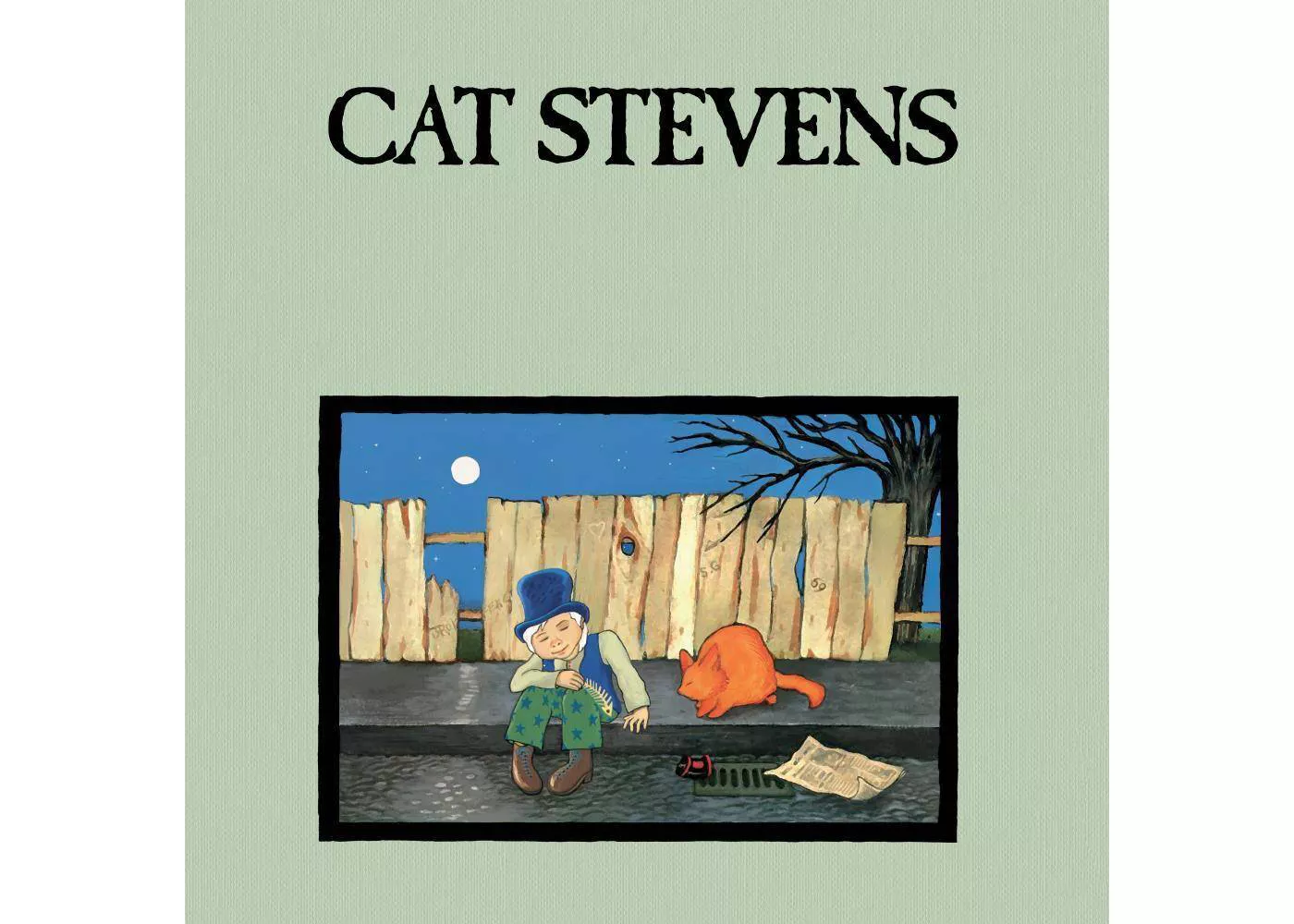 Cat Stevens: Teaser and the Fire Cat
How could Cat Stevens top something as sincere and unaffectedly authentic as his previous album, Tea for the Tillerman? He couldn't, but by giving the new release a similar title and even more immediately absorbable material, with a more consistent evenness to the quality of the songs and more established overall identify to the album, he was able to surpass the sales of Tea for the Tillerman (despite Tea for the Tillerman's incomparable "Wild World" having receiving considerable airplay on both AM and FM radio) with the driver behind some of these sales coming in the wake of the success of Tea for the Tillerman as well as the airplay of "Moon Shadow."
When I purchased Teaser in the Firecat within a week or two of its release, I was a trifled disappointed by the notable shift in style — the music had a more commercially produced feel and there was nothing the quite caught one emotionally as much as "Wild World" or "Sad Lisa." Yet, even a more commercial Cat Stevens had appeal, and though I had put Teaser away on the back shelf by the end of 1971, later to be boxed up for decades, it is still a treat to listen to again after so many years.
Chicago: Chicago IV (Chicago at Carnegie Hall), Family: Fearless; Don McLean: American Pie; Grateful Dead: Grateful Dead; Lindesfarne: Fog on the Tyne; Frank Zappa: 200 Motels; The Move: Message from the Country
October 1971 brought out a wealth of music, much of it defying single-label classification for a considerable portion of the best of popular music was now incorporating and borrowing from the great legacy of musical wealth from both the West and East musical traditions, as well as both new and older, musical heritage.
The Chicago Carnegie Hall set was the first non-classical 4 LP set I remember encountering, and was purchased by the same friend and next door neighbor that purchased the first two Chicago albums. I had purchased Chicago III, and considered it an extravagant expenditure based on my limited monetary means (in those early teenage years) to buy a four LP set of live of material from the previously purchased studio albums. That said, there was one new and notable composition, on the second side of the fourth LP, "A Song for Richard and His Friends", a backhanded tribute to then-president "Tricky Dick." At this time, anything mocking Nixon was contemporary, relevant, and cool, but ignoring all this, this is a pretty good tune, possibly directly influenced by Charles Mingus's scathing musical rebuke of Governor Faubus.
Frank Zappa's 200 Motels is filled with many brilliant passages of impressive musical material. Supported not only by his regular musicians, but by the Royal Philharmonic Orchestra, there is no doubt of Zappa's mastery of a myriad of twentieth century composition techniques. One could wish (or I should say that I wish) that Zappa had used the opportunity with the LPO to provide a more cohesive work — perhaps a great masterpiece of the twentieth century, but Zappa is Zappa and just about everything but the kitchen sink finds its way into the album, leaving one to marvel at the greatest moments and accepting those lesser (but perhaps from a Zappa mindset, equally valid and relevant) musical and extra-musical moments. I applaud Zappa's resolve and determination to be true to his own artistic vision, and that is part of what makes great artists like Zappa genuinely great.
My sister purchased both the Grateful Dead and the American Pie albums. I shied away from the American Pie album since the title song was played endlessly on AM radio. It probably would have been fine at 2 1/2 minutes, but at 8 1/2 minutes, despite good lyrics, some greater variation in melodic material would have been welcome. Nonetheless the album was (and is) still pretty good, and contains not only American Pie, which has stood the the test of time better than most songs of its nature, but also includes Vincent, one of McLean's best compositions.
Notable, though not approaching the quality of the first Electric Light Orchestra album, is The Move's Message from the Country, their final album before they changed their identity to ELO. Both this and the first ELO album were recorded during an approximately one year period that spanned 1970 and 1971. It almost seems as if the best and most interesting material was reserved for that first ELO album, though those that prefer more traditional rock may be more comfortable with Roy Wood and Jeff Lynne's contributions to The Move's last effort.
So many albums were released in October of 1971, apparently to time with holiday spending, that I suspect I may have missed a few of those that baby boomers grew up listening to. What's particularly interesting is the number of albums that still are worth listening today or that influenced other artists who also produced music that still merits listening time. I remember being told that once I got older I would look back on the music that I had listened to in the early seventies and find it silly and simplistic — yet just the opposite: I have a much greater appreciation for the quality, diversity, and complexity of this music than I ever had during my teenage years.