Led Zeppelin: Led Zeppelin III
Listening to this for the first time in decades it sure brings back many memories! Almost fifty years ago, the basketball season started, and I was selected to always get a great seat for home games and travel with the team to away games (on the team bus) to keep stats for both the JV and Varsity basketball teams. Watching the games was particularly exciting as the best player on the Varsity team was the freshman point guard, who led the team in points, assists, and sometimes, rebounds. Several times he launched a shot in the backcourt to beat the end of a quarter, and more than once he connected. Unfortunately, those baskets only counted for two points.

My next door neighbor purchased Led Zeppelin III shortly after it was released in October 1970, and I recorded his copy onto reel-to-reel tape, and it was soon after that, in the month of Novemeber, that I heard the opening track of the album on the team bus's radio. It was always a thrill when an album one already had started to get some airplay, even if as a single on AM radio.

This album struck me as being very different than their two previous efforts. Maybe it was just the album cover, but I always considered that this album had more vitality and musical sparkle than the two previous ones. And like its album cover, with an inner rotating wheel, I found this more musically imaginative than the previous two.
Elton John: Tumbleweed Connection
Elton's third album, and at that time, for us in the States, his second album, was released at the end of October. I remember purchasing the album in January 1971 with Christmas money and carefully following the lyrics with the music. The album is a concept album of sorts: a series of songs with lyrics about the old American West — songs about gunman, the civil war, and so on.

Elton's music nicely support the narratives of each lyric with all nine of his songs being memorable and substantive. A tenth song, the second track of side two, was written by Leslie Duncan who provided a simple acoustic guitar accompaniment and beautiful backing vocals. Gus Dudgeon is to be praised for his production, solid in every way except for the puzzling ocean background sounds added as an apparent afterthought to the Duncan song.

This, in many ways, is Elton John's best album even though not a single song ever received AM radio play as far as I remember. The album works well as a whole, supported nicely by the visual materials on the outside and adorning the inner-sleeve lyrics. So well, that those songs that are not clearly about the West (including "Come Down in Time" and "Love Song") get absorbed into the Western theme so seamlessly that the album retains its conceptual integrity. Musical highlights include "Come Down in Time", "Son of Your Father" with its bouncy piano intro, "Where to Now St. Peter?" and 6 1/2 minute, piano-dominated "Burn Down the Mission" with its brief but magnificent multiple-mood middle-section instrumental.
Genesis: Trespass
Recorded in June and July of 1970 and released in the UK on October 23, 1970, Trespass far surpasses Genesis's first album in compositional scope and quality. From the first track, we now have Genesis providing the Gabriel-era sounds that made them one of the finest progressive rock groups. The second track "White Mountain" latches on to the listener from the start, showcasing the synergy between Mike Rutherford and Ant Phillips with their distinct partnering of their twelve string acoustic guitars. This work establishes the groups successful approach to music narratives that continued long after Phillips' departure. The album continues much at the same level of quality throughout with the final work, "The Knife", originally titled the "The Nice" as a tribute to that early prog-rock group, and lasting up to 18 minutes in concert with extended keyboard work, but pared down to half that length on the album.
Kevin Ayers: Shooting At the Moon
Released in October 1970, Ayers's second solo album is packed with brilliance including clever songs, gorgeous passages of the Canterbury sound, and intriguing electronics and his own approach to what was often called at the time "experimental music" — a term many composers disliked since they weren't "experimenting" but applying their musical sensibilities and compositional skills to push conventional musical boundaries. The accessibility of the music may vary, but the quality does not, and if one is up for adventure and appreciates solid musicianship from not only Ayers, but the accompanying "Whole World Band", which includes Mike Oldfield on bass and guitar and David Bedford on keyboards with a guest appearance by Robert Wyatt on vocals on one track, then this album will provide repeated listening pleasure.
Pink Floyd: Atom Heart Mother
Enlisting the arranging and composer talents of Ron Geesin for the orchestral-rich first side if the album, Atom Heart Mother outsold Pink Floyd's previous albums, perhaps due to its intriguing Hipgnosis cover. The first side contains the title track, named by Geesin from the content of an article about an expectant UK woman with an atomic-powered pacemaker. Geesin effectively takes the band's raw material turning into the finest orchestrated prog-rock up to that time (not including progressive, but generally not labeled prog-rock albums, like Jesus Christ Superstar.) The second side contains some interesting solo compositions by Rogers, Wright and Gilmour and then filled out by the novel "Alan's Psychedelic Breakfast" — primarily a Dave Mason effort that doesn't fully coalesce.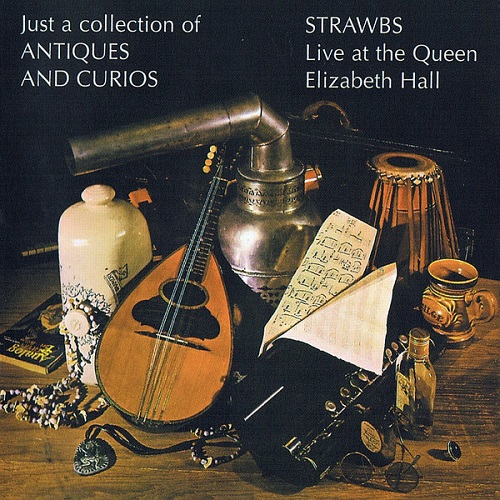 The Strawbs: Just a Collection of Antiques and Curios
The Strawbs "Just a Collection of Antiques and Curios" is a sparkling collection of mostly progressive folk-rock music recorded live in July 1970 at Queen Elizabeth Hall in London with an extended rendition of "Where Is This Dream of Your Youth" from the first album and several songs not on their earlier albums. The highlight is the intricate acoustic guitar work and Rick Wakeman's keyboard work on harpsichord, celeste, organ, and of course, piano. More than just a solid, enjoyable album, it's necessary listening for anyone interested in the history of progressive rock.
Savoy Brown: Looking In
With the loss of their distinctive vocalist and talented songwriter Chris Youlden to a pursuit of a solo career and Kim Simmonds taking on more songwriting responsibilities, Savoy's Brown sixth album, Looking In, falls short of their much better fifth album. So why do I even mention it? For that album cover, which always caught my attention when browsing through friends' and acquaintances' record collections. To this day it still reminds me of the artwork from the early days of Creepy magazine.
Guess Who: Share The Land
The Guess Who provides another strong album with their seventh studio effort, Share The Land, released October 5, 1970. Besides some AM hits, including the infectious "Hand Me Down World", there is the interesting "Moan for You Joe" and a foray into authentic-sounding blues "Song of the Dog." The lengthy last song on side two seems to function as filler material, but the rest of the album is solid.