David Bowie: Hunky Dory
Bowie's fourth studio album, released Dec. 17, 1971, is a bit of a hodge-podge collection of generally strong tracks, some of which harken back to his English Music Hall influences, and one ("Queen Bitch") near the end of side two, that foreshadows his Ziggy Stardust album, personna, and musical styles.
The album is peppered with optimism and several upbeat numbers, leading off with Bowie's invigorating "Changes" with Rick Wakeman on piano, Bowie's artful handling of tempo contrasts and meter changes, and a reflective Bowie sax solo that wraps up his finest song to date. This is followed by another expertly arranged, well-crafted song, deftly executed with appropriate vocal expression by Bowie with verses and chorus particularly well matched. Other fine songs include "Life on Mars", "Kooks", "Fill Your Heart", "Andy Warhol" and "Queen Bitch." The combination of Bowie's expressive and varied vocals, the high quality of music, and the excellent arrangements and performances, make this a particularly notable leap forward in Bowie's soon-to-be explosive career.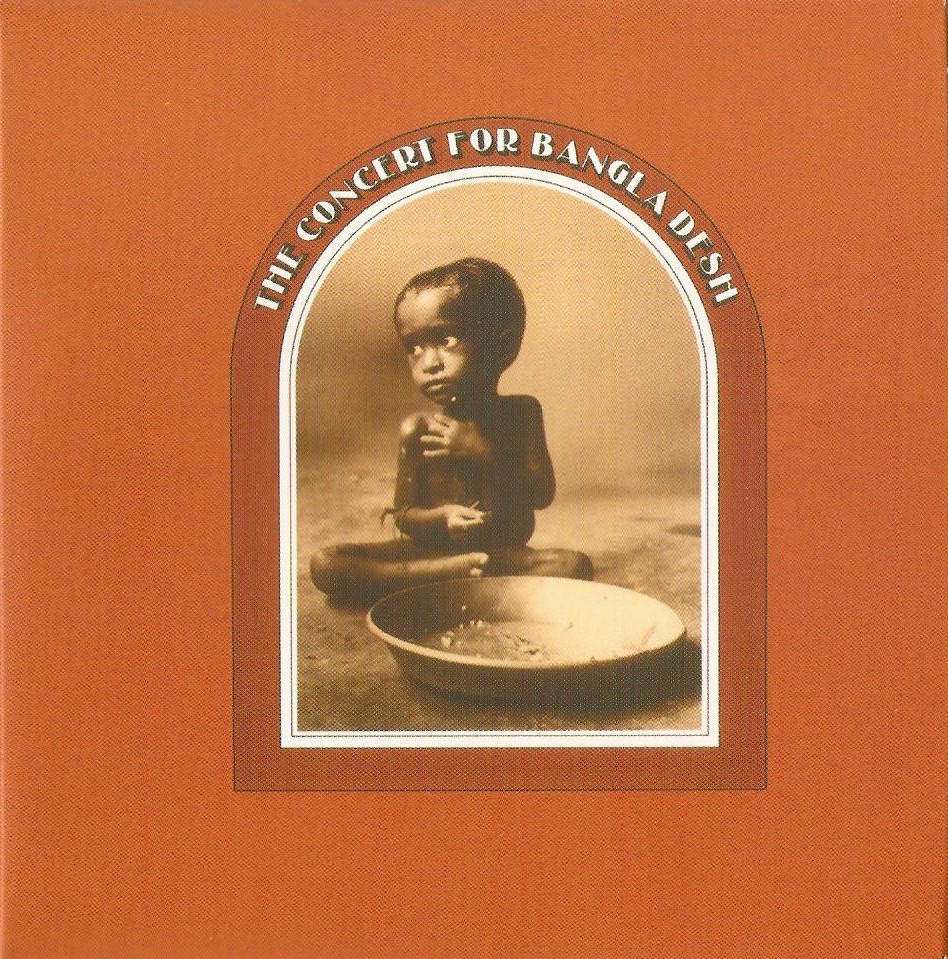 George Harrison & Friends: Concert for Bangladesh
There is so much to like about this important document of music and charity, released on December 20, 1971, consolidated from two concerts, one afternoon, one evening, at Madison Square Garden on August 1, 1971. Not only a laudable effort to raise money for the horrific situation in Bangladesh at that time, but it notably provided the inspiration and motivation for other charity concerts that would follow.
The six-sided LP album (with the last side being relatively short) not only contains eight compositions and performances showcasing George Harrison, with support from Eric Clapton, a horn section and a number of other talented performers, but also a side of performances from Bob Dylan, as well as single performances from Billy Preston, Ringo Starr (on Ringo's George Harrison aided composition, "It Don't Come Easy") and Leon Russell. Also, importantly, side one contains a partial performance of a beautifully performed dhun by Ravi Shankar on sitar, Ali Akbar on sarod, Kamala Chakravarty on tambura, and Alla Rakha on tabla. For many of us, this was our first exposure to Hindustani classical music, and helped provide a surge of interest in Ravi Shankar and Hindustani music, at a time when world music was achieving more and more exposure and popularity.
Carole King: Music
In December 1971, Carole King followed up her incredibly successful Tapestry with another fine album. She brings back artists like James Taylor on guitar (also providing magical mix on vocals with King on "Some Kind of Wonderful") and Curtis Amy on tenor sax with additional artists added like Ernie Watts and Buddy Collette. All songs are classic Carole King with "It's Going to Take Some Time" being especially notable, as well as Amy's solo on the title track, "Music."
King Crimson: Islands
Recorded in October of 1971 and released on December 3, 1971, I first saw Islands in the first Orange County Warehouse record store a couple of weeks prior to Christmas. Rather than the more intriguing cover provided for the UK market (shown above), it was a simple cover, mostly white with representations of islands — the cover based on a painting by King Crimson lyricist Pete Sinfield. I purchased this with some classical music on the Supraphon label, all at a nice price, and anxiously awaited being able to listen to it at home later that day.

My initial reaction to the album was deep disappointment. I had expectations based on their previous albums, one of which, their second album, I had to special order just to get a copy, one damaged in transit, but which I never thought of not purchasing when it came in, despite the superficial cover damage, as I couldn't wait to hear the music. And I couldn't wait to hear the music of this, their fourth studio album, but when played, from the first few minutes, it was clear that there was little in common with their previous albums.
My money was not easily obtained, my source for it hourly wages during early morning and lunch hours at our high school cafeteria, a job I enjoyed, serving soft drinks to an endless supply of the many beautiful young ladies at our high school, and able to comfortably socialize with fellow students, many of whom I otherwise would have been strangers with. So I didn't put the album away and move on to something else. I played it repeatedly, and not only due to the money involved (which was only $2.99, and so not a major setback), but because I sensed an excellence throughout the album. No, it wasn't the driving progressive music of prior King Crimson albums –it was more cerebral, reflective and ambient, but it still had a coherence and attractiveness, and after about five more listenings, I embraced the album, still the least favorite of my first four King Crimson albums, and an album that wouldn't hold up to the next three Crimson studio albums to follow, but one I considered well worth the money and then some.
Electric Light Orchestra: Electric Light Orchestra
Recorded around the same time that the core ELO personnel, Roy Wood, Jeff Lynne and Bev Bevan, were recording the last Move album, Message From the Country (covered in October's Fifty Year Friday) this first ELO album was released in the UK in December of 1971 but not released in the US until for months later, in March of 1972. Soon the first track, the incredible and irresistable "10538 Overture" got FM airplay, followed with its release as a single in the UK. I don't believe it ever got any airplay in the U.S. on AM, but other music on the album continued to get FM exposure. Whereas their last Move album was mostly traditional rock (if any rock in 1971 can truly be labelled as such), this first ELO is more orchestral and progressive in nature, with a definite upbeat popular slant.
America: America
Many know America from the single from this album, the incredibly monotonous "Horse With No Name" (not inappropriately, though, as the music supports the lyrics effectively. Overall, this first album, released at the end of 1971 in the UK and then in 1972 in the U.S., is quite good, with a wealth of acoustic guitar, with musical similarities that would appeal to Crosby, Stills, Nash and Young fans, and with several good tracks, including "Rainy Day" and the Badfinger-like ballad "I Need You."
Badfinger: Straight Up
For those in December 1971 and early 1972 that were not exactly thrilled with the content of Paul McCartney's December 1971 release, Wild Life, they might possibly have found comfort in Harrison's Bangladesh Concert album, ELO's late-Beatle's influenced first album, or even in Badfinger's borderline Beatlesque Straight Up, which includes a number of good tracks, the best of which is "Day After Day" which hearkens back to the era of the Beatle's Revolver album.